(the letter A on a child's plate, from Judies book, Dishy Animals)
Today, I have a guest post from Judie Siddall. Judie is a long time collector and dealer of transferware and has written a charming little book about childrens transferware of the 19th century, Dishy Animals, which she specializes in. I have one of the books in my collection and Judie has generously offered to give a copy to one of my readers. It is so charming and if you have young children or grandchildren you will want this book...it's a fun way for little ones to learn their ABC's!
(front cover of Dishy Animals)
Here, Judy shares some of her collection with us and talks a little about herself and how she became a transferware enthusiast.
About Judie Siddall:
I was introduced to blue and white transferware pottery by my mother and grandmother. We ate off of my grandmother's blue Willow plates, which were made in occupied Japan, for years. My sister still has them. I remember going to antique stores with my mother from the time I was five. My mother (now 91 and still a blue lover), liked all kinds of china, but especially flow blue and old blue transferware. I liked old blue too. I bought my first piece of blue when I was a teenager. An addiction was born! In 1990, I was told by my husband that I must either become a transferware dealer or stop collecting. What a no-brainer! This was when Merlin Antiques was born, named after my favorite black and white cat. I would have liked a blue and white cat. Merlin brought me treasures; nothing dead. Shoes, shirts, hats; anything left outside by my neighbors. Unfortunately, no jewelry.
(some of Judie's blue and white pieces)
I always enjoyed studying transferware and sharing that knowledge with others , so in 1998 I founded the Transferware Collectors Club (TCC), along with Norman Wolf and Dave Arman.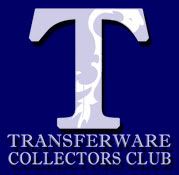 (click logo above to visit TCC or join...please tell Judie I sent you!)
I have served as the TCC vice president and president and am currently the membership secretary (please join!). I also am the editor of the animals category of the TCC pattern database (nearly 7900 patterns so far) and the co-editor of the children's subjects category. I am a bit obsessed with entering patterns. I have entered nearly 1500 of them.
I created "Dishy Animals ABC" for my granddaughter, Maya, when she was 14 months old. I dedicated the book to her and my four grandsons. Maya loves the book, and carries it around the house and says "my book"; she is now 21 months old, but the boys just roll their eyes. Of course, Forrest is 17 and the triplets, Alex, Ben and Mo, are 10. Their fathers, my sons, also roll their eyes. Having a bit of girl in the family hopefully will ameliorate all of the eye rolling!
(Maya carrying her copy of Dishy Animals)
"Dishy Animals ABC" combines my love of children and china. I taught in the Palo Alto, California, Parent Education Program, PreSchool Family, for 25 years, and have operated Merlin Antiques, specializing in 19th century British transfer printed pottery, for 21 years. I particularly like pottery made for children.
including these rare yellow glazed children's mugs and pitchers.
Who has ever heard of a Cameleopard before? Not until I got my copy of Dishy Animals had I heard of one! This is one of Judie's favorite pieces she shares in her book for the letter X to stand for eXotic...and that it is!
If you'd like to enter for a chance to win a copy of 'Dishy Animals ABC' all you need do is leave a comment here and tell me why you'd like to win it!
One winner will be chosen via random.org in one week. I will announce the winner on December 15th. Please be sure you leave an email address so that I can contact you!
I'm joining
Share The Love Wednesday Potpourri Friday Colorado Lady and Wow Us Wednesday